After Effects Next : All the new features of the upcoming version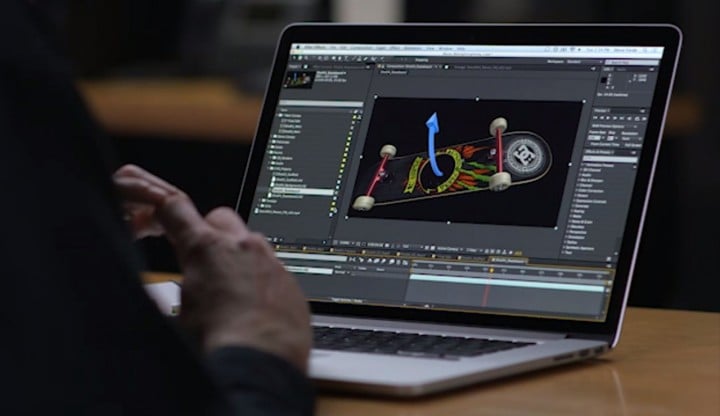 At the occasion of NAB 2013, starting this week-end in Las Vegas, Adobe will unveil its next generation of video products. You can find all the related announcements and previews right here.
Main new features of the upcoming After Effects
Live 3D pipeline with Cineware for Cinema 4D
One of the most promising feature for all Cinema 4D enthusiasts! Compatibility between both software has been completely revisited, and is now completely integrated in the context of the new partnership between Adobe and Maxon. As a user of both software, I couldn't be more excited about this news. As a first example , here's a presentation video of the new Cineware effect:
More information on Cineware is available in this dedicated in this article, including video presentationsand artists interviews.
Cinema 4D Lite
Cinema 4D Lite R14 will now be part of After effects, (in the same way Mocha is) This version is similar to the Prime version, some features that are not included in Prime will be in the Lite version and vice-versa. It will be possible to create a .c4d file directly in After Effects, and to perform cinema 4D edits directly from the file within After Effects.
Roto Brush, edges and matte improvements
Rotoscoping is continuously evolving, Roto Brush has been completely revisited, and now includes a very powerful "Edges improvement" effect, that will make complex keying possible with a simple brush stroke over an area.
3D Tracking tool improvements
The new 3D tracking tool was already powerful, it is now controllable. We can now define the origin of our scene from a target point. Something that was lacking in the actual version, it will allow us to set the origin coordinates of a 3D environment (0,0,0 in terms of spatial coordinates) to any given location.
It will also be easier to delete target points, in order to improve the tracking. If someone passes trough the shot, we'll be able to select the points on this person and tell the tracking tool to ignore it during the entire sequence.
Stabilizing tool improvements
The Warp Stabilizer effect will become the "Stabilization Warp VFX" and this tool has also been completely revisited.
It will now be possible to specify not to modify the scale of the video when compensating for camera zooms or pull backs. Different modes will be available in the advanced menu, for example the reversible stabilization, which will allow us to temporarily take advantage of the stabilization to make it easier applying effects or correcting the video, and then switch back to the original camera motion.
A new effect : Pixel Motion Blur
At last ! A simple effect was implemented to generate artificial motion blur on a video. It was already possible to do so with the "time warp" effect (explained in this tutorial). The new Pixel Motion blur settings will be quite similar to that effect, as they share the same algorithm.
More new stuff for more pleasure
The possibility to snap 2 layers together directly in the viewport, (based on corners or anchor point)

Automatic reloading of modified elements. No need to manually reload a Photoshop file (or any

other formats) after editing it. When returning to After Effects, the file will reload itself automatically.

Useful commands to seek out effects, typography and missing elements.

Bicubic Scaling, which should achieve better results when dramatically over-scaling an image

We can now invert the end and start colors on a gradient in a single click.

ProRes native support (codec installation not required) making it possible to export in ProRes format

on OSX 10.8


The possibility to render multiple frames simultaneously during render only and not for Ram previews.
The list does not end here, dozens of improvements and changes will appear in this upcoming version. You can find the entire list on the official After Effects blog.
Creative Cloud members will have access to all this new stuff in the next software update. And You? What do you think about these announcements ?
Similar articles
Want to go further? Other articles on the same topics:
1 Comments