Premium. A new step for Mattrunks.com!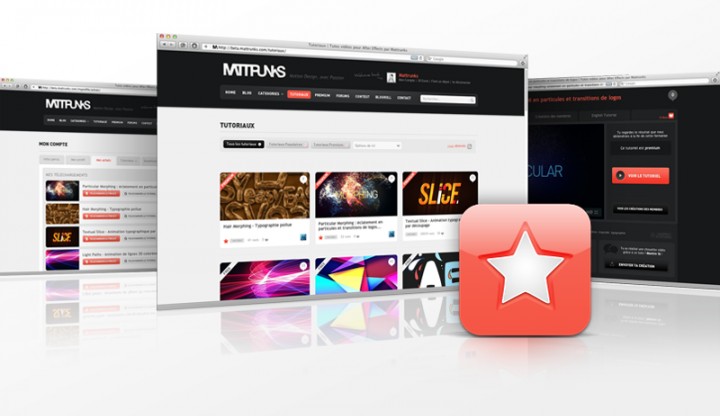 Nothing is lost, everything is created, everything changes.
The Premium. It's probably the biggest change has known my site.
This is both a new milestone in the evolution of mattrunks.com, and a delicate transition from a personal perspective.
I wanted to write this article for several reasons:
You have all the new features of the site  
Answer any questions you should ask about this new model
Give my opinion when the tariffs, and my vision of the future of mattrunks.com
What's new
Premiums Tutorials
New tutorials have emerged: the premium tutorials ! Reserved premium members, these tutorials will cover topics more complex, longer, and more cool ;) There are now eight, and new arrive in the coming days , and next week!
Member Premiums
Announced a long time, the premium accounts are finally here! You can always activate new privileges for your account! Subscriptions are available depending on the length of day chosen, and there is no automatic renewal ;)
A premium member has of course access to all the premium tutorials , but also download all the tutorials, and minimum 50% discount on purchasing projects.
Download tutorials
Premium members have access to download all the tutorials site, premium and free. Simply go to any tutorial, and click on Download the project. The download of the tutorial will begin immediately. Most tutorials are in Quicktime format, 720p, for weights up to 500MB per tutorial. Make sure you have a sufficient connection and the latest version of Quicktime .
The tutorials are also available for download after purchase of the project, in the case of a purchase with a normal account.
Purchase Projects
On each tutorial, a new button to download the project is available. The price of each tutorial is independent, and configurations necessary for the proper execution of the project (version of After required plugins used ..) are specified before purchasing to avoid surprises ;)
After every purchase, you can find all your projects procured under shopping from your account.
Buying a project will unlock the download sources, but also the video tutorial in the case of a normal account.
Training beginners
Finally, a surprise that will delight everyone!
A new section has appeared on the site: training beginners on the basics of After Effects.
Through 8 tutorial videos completely free and accessible to all, we will discover through 4 hours of training and eight thematic most essential features of After Effects. It has never been easier to embark on this wonderful software!
Issues that can arise
Is this the end of free tutorials?
No, not at all! There is now a forty tutorials viewable free on the site, and will remain.
There will also always free tutorials. This is the essence of the site, provide quality training accessible to all.
The formations are a premium (very good) supplement, to go a little further with After Effects. Even if I count at first feed zone to give the premium content it deserves, I will continue to publish free tutorials. It is a promise and a desire.
Why some formerly free tutorials have become premium?
Many readers were surprised to see 3 free tutorials lose. 3 of 45 tutorials. The tutorials in question were tutorials that would be the premium if this section had existed at the time of publication. This area was not ready, so the tutorials. The older players have benefited from these free tutorials 3 long, but any service changes. Some have experienced at any spotify or deezer unlimited, others not. But I assure you, there will be no other changes in status of the tutorials to come. And I apologize for the confusion that some have felt.
Why pay for projects?
A tutorial on free viewing of the program is open to any member of the site. From a tutorial, everyone can get to rebuild the project corresponding to the tutorial. Just follow the training, and you'll end the corresponding project ;) If you're in a hurry, and you need a quick project .. it surely will want to say that there is a customer behind, and therefore earnings. Spend a few dollars to gain a few hours, in a configuration pro, this is normal.
In a personal setting or amateur, you are free to take the time to learn if you do not want to purchase project. In addition, it will benefit you in the long run, really!
In conclusion
For the first time, I will be able to give this site dynamics that my readers deserve. The quality and number of tutorials will increase in coming weeks and months, for one simple reason:
I am now full time on Mattrunks. (with of course always some pro video projects, you have to eat :))
Spend all free to pay a little is not an easy thing for me.
Some believe that this update is the beginning of the end. I personally think it is quite the opposite!
Some will find it expensive. Others do not. This will often depend on the status. A professional selling his videos several thousand euros will find the ridiculously low price. A student he will think twice before allocating a budget for mattrunks, and I understand. But it's not expensive, or you have been badly used.
Currently there are eight tutorials premium, less than € 2 per tutorial. And must not forget one thing, it is only the opening. Soon there will be dozens of premium training, and the price remains € 15.
Of course, if you pay for a tutorial is inconceivable, and you find it contrary to the spirit of the net .. I want to tell you that you are mistaken. The transmission of knowledge from a professional experience over the years and projects, and no, this is not always free.
Thank you
Thank you to regular readers, who have been there in both good and less good times on the site. Thank you for your support over these four years of sharing, I hope you continue this journey with me, who is just beginning!
With that, I'll let you discover all these new, I have to record tutorials ;)
Similar articles
Want to go further? Other articles on the same topics:
0 Comments