Unit Image: Trailer ZombiU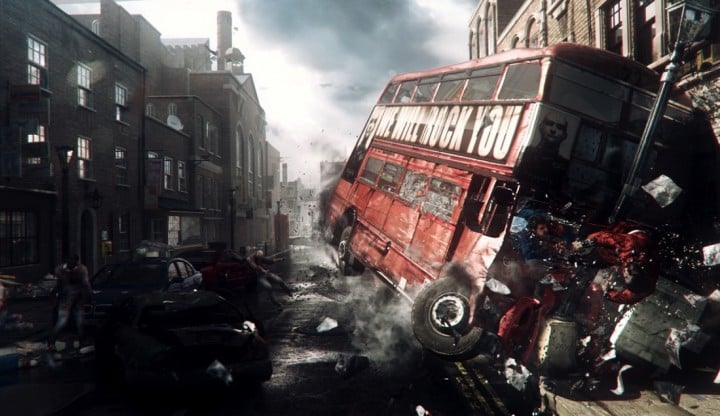 Last month I had the opportunity and the joy of working in the young parisian animation studio, Unit Image . I was involved in the creation of the trailer for the game ZombiU presented at Ubisoft's E3 2012. Back on a dream project that looks like a nightmare :
Unit Image
Take four 3D supervisors, each specialized in one discipline (animation, vfx, matte painting and rendering) and you get the main core of the parisian studio Unit Image . Through their experiences, they quickly managed to win prestigious projects in less than a year and a half, and have realized eight pubs and video games trailers.
They won a few awards, including one for the pub for Sequoia with the snail .
The ZombiU project
Unit Image and Ubisoft have been working on this project for a long time. Initially zombiU was to be called Killer Freaks and must be some kind of zombie rabbits from outer space. Unit has also made a trailer for this game at the time of E3 2011:
But Ubisoft has finally decided to create a game more hardcore gamer for the launch of the new Nintendo console, the Wii U. So no more rabbits, but some good real zombies.
Unit is again responsible for creating the trailer and we chose to dive into the heart of several scenes of zombie attacks through a large bullet time sequence which is not without reminding us of the movie Carousel made for Phillips, or certain sequences of Gunfight for Max Payne. Only the contagion of the virus passes through the effect and continues its evolution in real time.
It took three months and twenty people to make this film, made entirely in 3D.
The characters were modeled in Zbrush.
Environment modeling, animation and VFX were done in 3DS Max, rendered with V-ray.
The whole compositing was done with After Effects.
All rendered with fifty machines with two-thirds in the renderfarm, about 400 cores. I can tell you that the renderfarm sounded like a tourist plane taking off.
The average time per frame was 1h30 not counting the multitude of passes and the fact that some of them were boosted 4-5 times. Suffice to say that the film is spent at E3 during the Nintendo conference was quite warm!
Making-of 
And the motion design in all this?
And yes, we are well on mattrunks.com and even if the images are sublime, one wonders what can be the role of a motion designer on this production. We were a few forthcoming from the motion design world for several reasons:
Firstly, because that Unit Image like working with knit teams, and therefore with very polyvalent people, it is far from big productions in which every person must do their part and only part of his film. Here You have to be creative, responsive and smart ... all skills that needs to have a good motion designer.
Then Unit has a workflow very similar to that of motion design, especially in the rendering / compositing: they use After-Effect for their entire compositing needs.
Finally, who better than a motion designer for the logo animation of Ubisoft and ZombiU?
Case Study: Adapting Ubisoft logo
When I was asked by Unit to work on the adaptation of the Ubisoft logo ZombiU sauce, the project was completed in ¾. This required that I adapt to the request of Ubisoft and to the work already done by Unit.
Ubisoft wanted to start playing with the codes that looked like London, but after several tests, we realized that we had the impression that it was a division of Ubisoft in London who had done it, while the game was developed by Ubisoft Montpellier.
We then had the idea to do the same sequence as the Ubisoft logo but now transposed into the zombie virus infection.
Here are the steps of the design of this sequence:
Firstly a first test for visual feedback of the idea, here is what counts for us to see what it can possibly make before going further. (WIP 1 below)
Then a first version, keyed on the sequence of Ubisoft's official logo. Its goal is to have it validated the idea by Ubisoft. All the ingredients are there but nothing is worked in detail. (WIP 2)
Then we work all the sequence in detail, it is necessary that the virus is still "beautiful" and it moves at the right speed. After several days of work and through R & D Unit responsible for FX, the intro is ready to be rendered. (WIP 3 and 4)
And finally after VRAY rendering and compositing in After phase, the final result. (Intro Trailer)
In total, it took me eight days to perform this intro sequence, and you can view each step below:
Similar articles
Want to go further? Other articles on the same topics:
2 Comments